Useful Links
Sacramento Police Dept.
City of Sacramento
http://www.cityofsacramento.org
Code Enforcement
http://www.cityofsacramento.org/code
Animal Control
http://www.cityofsacramento.org/generalservices/animal-care
Parks and Recreation
http://www.cityofsacramento.org/parksandrecreation
Department of Utilities
http://www.cityofsacramento.org/utilities
California State University Sacramento
http://www.csus.edu
Animal Care Services       808-7387
Code Enforcement            808-5948
Garbage/Recycling           808-4800
Housing                                808-5404
Parking Enforcement      808-5354
Parks & Recreation          808-5200
Police (Non-Emerg)         264-5471
Traffic                                   808-5307
City Operator                     264-5011
Sacramento Police  Department  iPhone App
Click here to go to iTunes.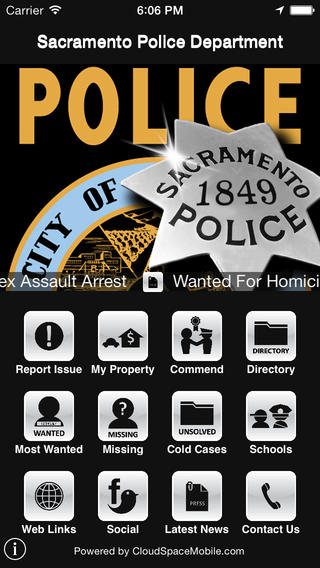 Welcome to the Iphone/Ipad App for the Sacramento Police Department! We bring this app to the community in order to provide the citizens of Sacramento with the best service possible.
Within our App, you will be able to report general non-emergency issues to the Sacramento Police Department either anonymous or by submitting your contact information and photos can also be included. You can also utilize the property portion to document serial numbers and upload photos of your personal property and store that information in your app and even email that catalog to yourself.
Our App also includes various methods to review crime information such as wanted persons, missing persons, and cold cases and report information directly from the App. You can also access the latest press releases and have a one stop shop in which to access all of the social media outlets that the department utilizes. In our web-links section, find direct links to helpful websites for both public safety and community awareness.